aquonic® – Our inshore watermaker, made in Germany
With our inhouse aquonic® osmosis plant, you can produce your own water when cruising inland waters. Thus, you no longer need to worry about how long your fresh water will last before you have to refill it or whether you should shower only sparingly. aquonic® produces pure drinking water directly from your surrounding river or lake.
aquonic® is a drinking-water treatment system with a seven-stage purification process that is energy-saving and cost-effective. The entire system is fully automatic and was developed by us.

independently tested - Made in Germany
aquonic's purification performance is independently tested by PIA Aachen
In contrast to conventional seawater desalination, the treatment of drinking water from river water, lake water, rainwater and surface water is much more complicated and technically more complex.
Due to its lower osmotic pressure, it is possible to work with fresh water, but in comparison to salty seawater, river and lake water contains a large number of different contaminants, germs and pollutants, whose removal must be ensured. Polycyclic aromatic hydrocarbons (PAH) and heavy metals in particular place high demands on a mobile-sewage treatment plant on a boat.
A further challenge is that the concentration of pollutants is unpredictable and subject to constant change for various users in a wide variety of water bodies. For example, passing ships or anchor manoeuvres whirl up sludge containing heavy metals, while heavy rainfall on land can wash herbicides away from fields, and in the city, fine dust from tyres, brake wear and faeces often end up in surface water. Under all these conditions, a drinking-water treatment plant such as aquonic® must always function safely.
The following risks must be considered to provide you with a safe treatment plant that produces clean and healthy drinking water of consistently high quality:
The input water (raw water) can contain toxic and hazardous substances in unknown concentrations and mixtures.
There are considerably more undissolved solid particles in fresh water than in seawater (e.g., algae, suspended solids, faeces, fine dust, tyre abrasion, waste materials, plastics).
Plants must be able to produce your daily drinking-water requirement with little energy input.
Maintenance must be simple and safe.
Operation must be cost-effective and permanently safe.
aquonic® meets these complex and supposedly contradictory requirements. It is a drinking- water treatment system with a seven-stage purification process that is energy-saving and cost-effective. The entire system developed by us is fully automatic – the user only has to switch the system on and off and flush it regularly when it is not in continuous use. All successful work steps are controlled by a single multifunction switch. This is located directly on the system or on a remote control at any desired location on the vessel.
how does aquonic® work?
The unique aquonic osmosis process
Seven-stage cleaning and mineralisation process developed by tom logisch
The natural fresh water passes through a sediment filter and a backing pump into a three-stage pre-filter. The working pressure is then generated by a pressure pump and the filtered water is pumped through the membranes. The water produced is then sterilised by UVC irradiation and remineralised. This remineralisation serves mainly to improve the taste. All programme steps are selected via the multifunction switch and then automatically controlled by the system. The built-in high-flow membranes themselves guarantee a high throughput with a long service life.
tested safety
aquonic meets the highest German legal drinking-water standards
Precipitation, especially from agriculture, mainly leads to the release of herbicides and fertilisers into water bodies; industrial wastewater often remains as sludge at the bottom of many water bodies for decades.
The degree of pollution of inner-city waters in large cities such as Berlin and many countries and coastal regions, both within and outside Europe, is sometimes so high that bathing and fishing bans are regularly or consistently imposed. Here too, a watermaker such as aquonic®, which uses natural resources, must function reliably at all times.
In order to prove the safety of our aquonic® solutions, our system was tested and any operating conditions were simulated by PIA, a legally certified testing institute for wastewater technology in Aachen, Germany. For example, up to 25% of wastewater contaminated with faeces was added to the raw water. Furthermore, possible environmental toxins such as glyphosate, hydrocarbons (PAH), heavy metals and toxic substances such as arsenic and uranium were tested in the fresh water.
aquonic® was always able to produce clean drinking water under all test conditions.
All impurities and pollutants measured with natural raw water could be filtered and removed by the system.
aquonic® key facts
Water safety by automatic operation
Water safety by non-manipulable cleaning and rinsing programmes
Seven-stage cleaning and mineralisation process developed by tom logisch
Combination of pre-filters and membrane filters (controlled by automatic valves)
Water is sterilised by UVC radiation
Remineralisation of the drinking water is achieved
Exclusively made of approved materials
Optional additional remote control instead of a switch directly on the system
Water production: 60-120 l/h Daily output: >1,440 l/d – depends on the raw-water quality and the purity or degree of clogging of the filters used
Energy consumption: 12 V–12 amps / 24 V–6 amps; in conclusion, 1.2 to 2.4 W/l
Dimensions: W600 x H420 x D260 mm (width/height/depth)
Weight: 20 kg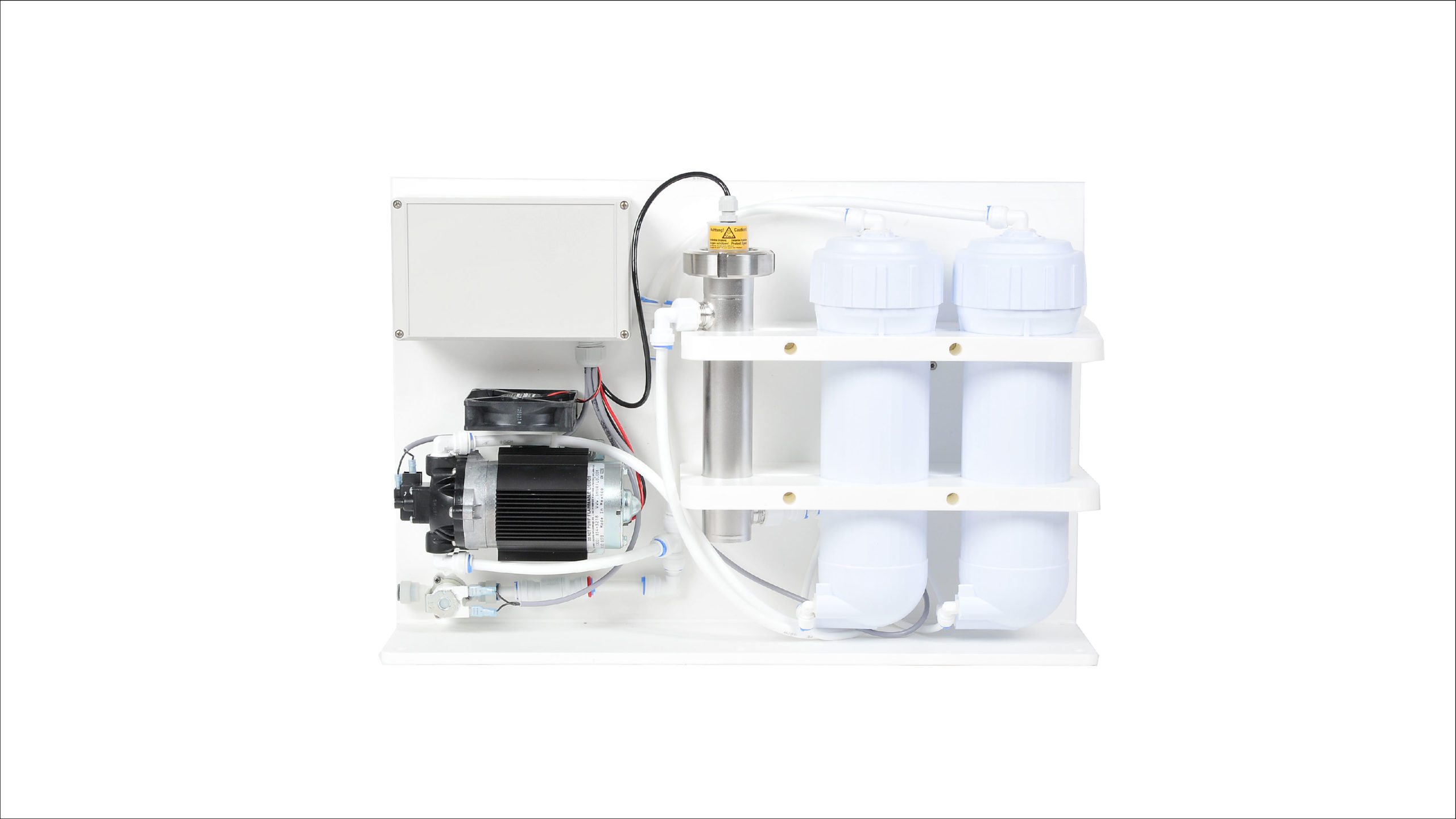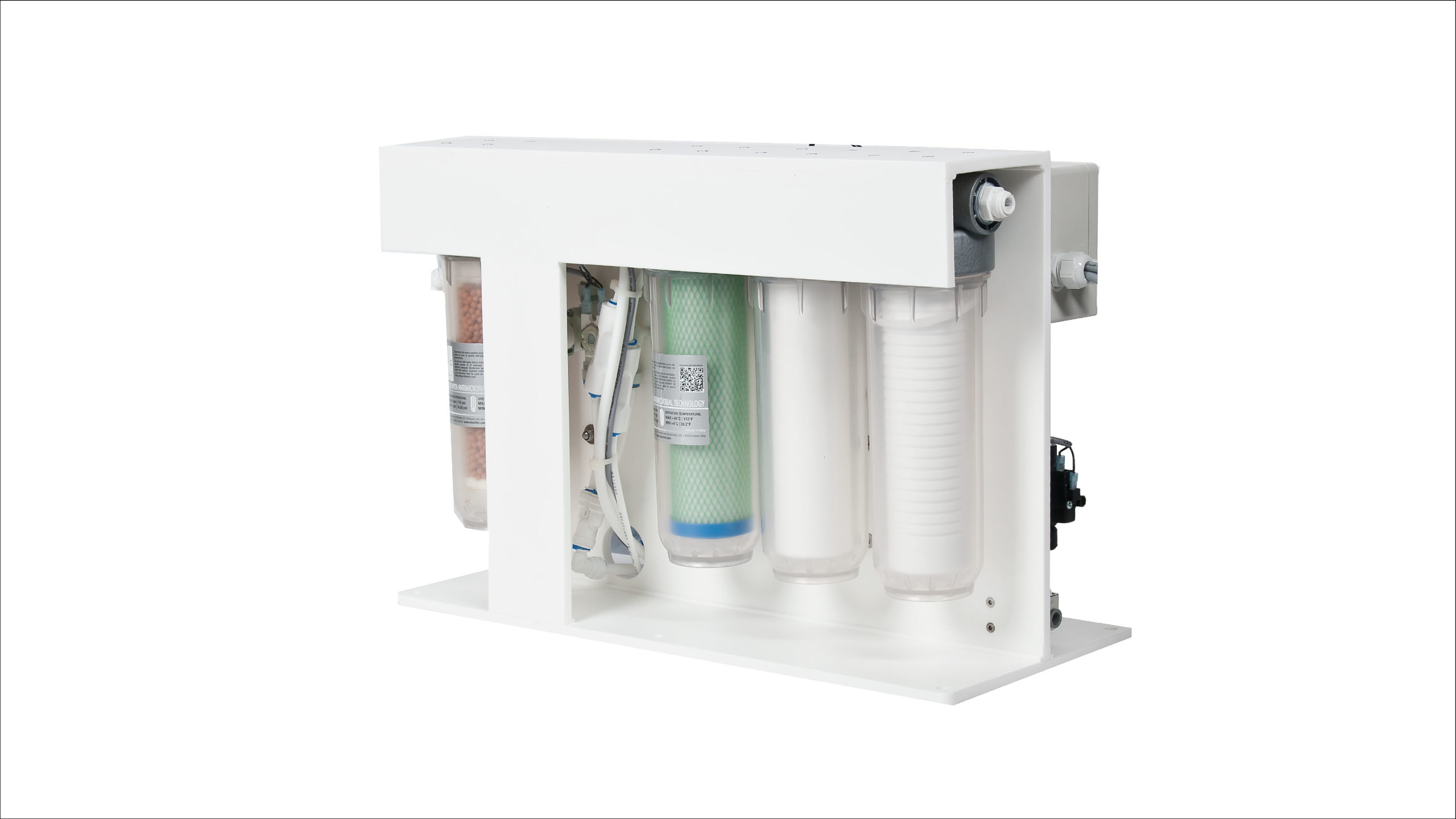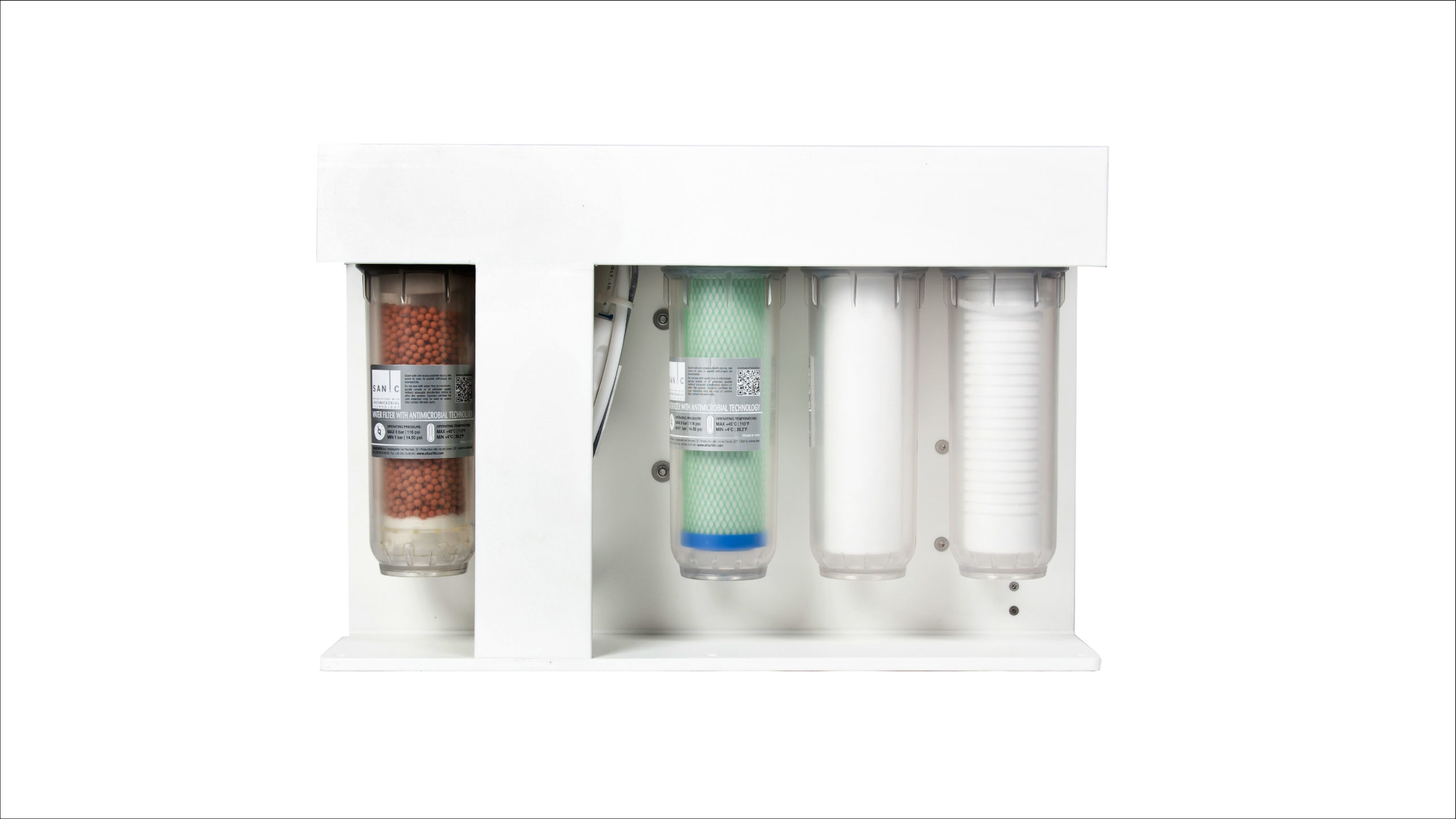 aquonic® downloads
Our inshore watermakers, made in Germany
Last updated: 15 Jul 2022
Downloads
All languages: German, English, French, Dutch and Polish Language
English
German